1 Color Inkjet print on 140g/m
2
Edition of 10, signed and numbered
30 cm x 30 cm / 11.81 in x 11.81 in
All incomes from this print will be donated to the
Kibbutzim


1 color silkscreen
Edition of 23, signed and numbered
35.5 cm x 48.3 cm / 13.98 in x 19.02 in
Paper: Meta Paper Extra Smooth Recycling 270g/m
2
1 color silkscreen
Edition of 1, signed and numbered
16 cm x 16 cm / 6.30 in x 6.30 in
Paper: Hahnemühle Aquarell Cornwall 450g/m
2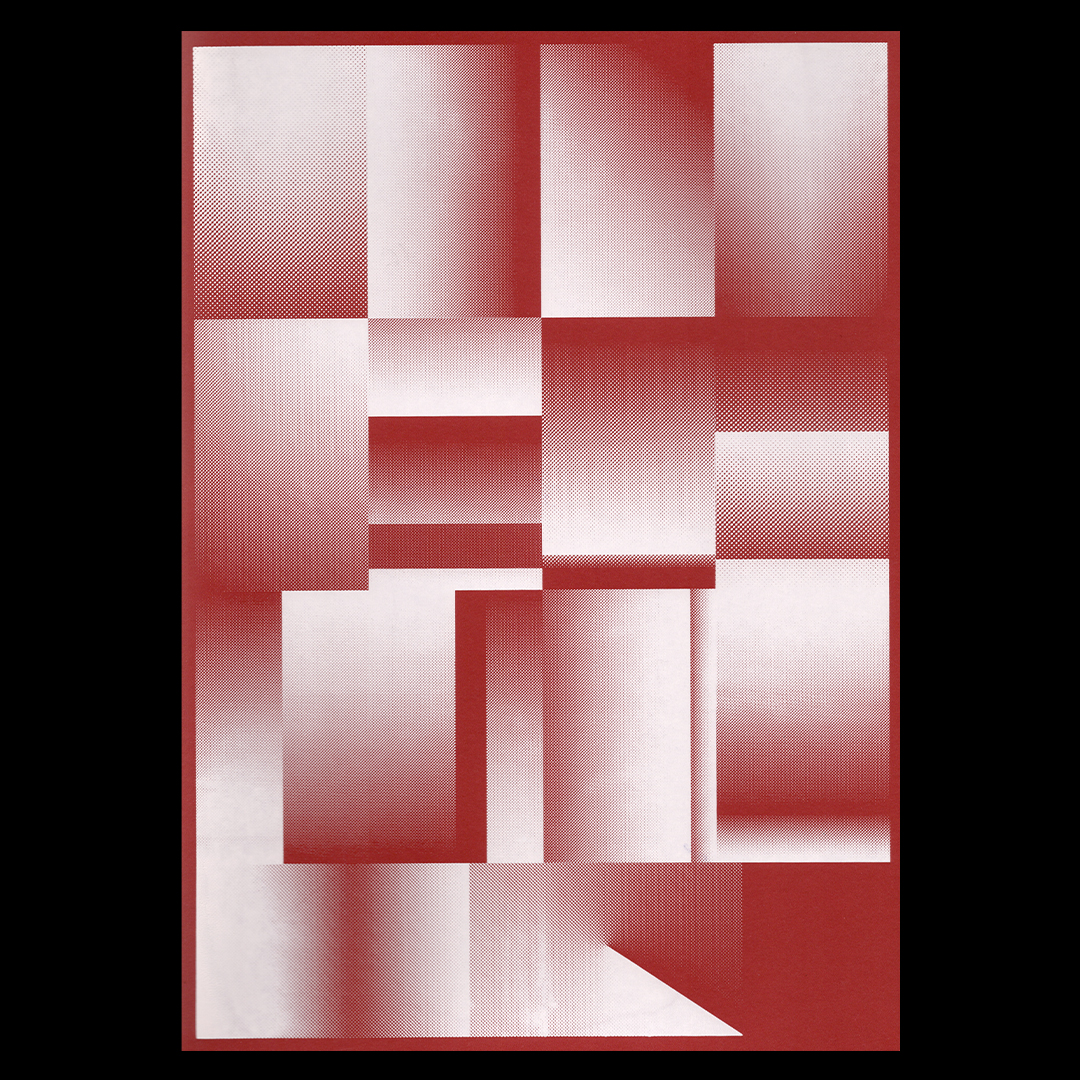 1 color silkscreen (white ink)
Edition of 2, signed and numbered
29.2 cm x 41.4 cm / 11.50 in x 16.30 in
Paper: Fabriano 300g/m
2
1 color silkscreen
Edition of 15, signed and numbered
29 cm x 41.5 cm / 11.42 in x 16.34 in
Paper: Hahnemühle 270g/m2
1 color silkscreen
Edition of 15, signed and numbered
59 cm x 80 cm / 23.23 in x 31.50 in
Paper: Meta Paper Extra Smooth Recycling 270g/m
2
2 color Riso Print (Gold Pigment & Black)
Edition of 14, signed and numbered
29.5 cm x 42 cm / 11.61 in x 16.54 in
Paper: Unknown 90g/m
2
1 color silkscreen
Edition of 14, signed and numbered
84.1 cm x 59.5 cm / 33.11 in x 23.43 in
Paper: Meta Paper Extra Smooth Recycling 270g/m
2
2 color silkscreen
Edition of 1, signed and numbered
16.2 cm x 16.4 cm / 6.38 in x 6.46 in
Paper: Meta Paper Extra Smooth Recycling 270g/m
2
2 color silkscreen (silver pigment)
Edition of 16, signed and numbered
51 cm x 36 cm / 20.08 in x 14.17 in
Paper: Meta Paper Extra Smooth Recycling 270g/m
2
3 color silkscreen
Edition of 20, signed and numbered
32 cm x 24 cm / 12.6 in x 9.45 in
Paper: Meta Paper Extra Smooth Recycling 270g/m
2


1 color silkscreen
Edition of 1, signed and numbered
15.5 cm x 15.5 cm / 6.10 in x 6.10 in
Paper: Meta Paper Extra Smooth Recycling 270g/m
2
1 color silkscreen
Edition of 1, signed and numbered
16 cm x 16 cm / 6.30 in x 6.30 in
Paper: Hahnemühle Aquarell Cornwall 450g/m
2
2 color silkscreen
Edition of 8, signed and numbered
35.5 cm x 50.2 cm / 13.98 in x 19.76 in
Paper: Meta Paper Warm White Smooth 300g/m
2
3 color silkscreen
Edition of 20, signed and numbered
32 cm x 24 cm / 12.6 in x 9.45 in
Paper: Meta Paper Extra Smooth Recycling 270g/m
2
1 color silkscreen (silver pigment)
Edition of 16, signed and numbered
51 cm x 36 cm / 20.08 in x 14.17 in
Paper: Meta Paper Extra Smooth Recycling 270g/m
2
2 color silkscreen
Edition of 8, signed and numbered
35.5 cm x 50.2 cm / 13.98 in x 19.76 in
Paper: Meta Paper Warm White Smooth 300g/m
2
1 color silkscreen (white ink)
Edition of 5, signed and numbered
29.2 cm x 41.4 cm / 11.50 in x 16.30 in
Paper: Fabriano 300g/m
2
CERTIFICATE OF AUTHENTICITY

Each artwork available in our shop is accompanied by a Certificate of Authenticity, or COA. This COA serves as documentation that verifies the genuineness and authenticity of the artwork. It is personally signed and stamped by Liad Shadmi and contains comprehensive details about the artwork, including its title, technique, year, edition number, and more. This ensures that the artwork is an original creation by Liad Shadmi and no one else. Moreover, this document plays a pivotal role in safeguarding against any potential counterfeit attempts.

COLOR PRECISION

The visual representations displayed in our online store are designed to closely mirror the original artwork. However, it's important to note that due to the inherent disparities between natural pigments and digital displays, there may be slight variations between the physical artworks (prints and drawings) and their digital previews.


IMAGE COPYRIGHT

Upon acquiring an art piece, you gain ownership of the physical artwork itself. However, it's important to clarify that the copyright of the image remains under the purview of Liad Shadmi. Reproduction of the image is prohibited without the explicit written consent of Liad Shadmi.

CUSTOMS COMPLIANCE

We diligently adhere to all tax and customs regulations. For international orders, we meticulously provide all requisite documentation, including shipping invoices and a declaration of the artwork's authenticity, facilitating a duty-free entry into non-EU countries. This proactive approach generally suffices to circumvent customs fees. It's important to note that certain countries levy import VAT or sales tax. The buyer assumes responsibility for any potential customs fees, VAT, or sales taxes incurred.

ORDER AND SHIPPING NOTIFICATION

Upon placing your order, you will promptly receive an email confirming your purchase. Once your order has been dispatched, an email containing shipping details, including the tracking number and the invoice, will be forwarded to you.

SHIPPING PROCEDURE

All artworks are shipped directly from our studio in Hamburg, Germany. Shipping costs are dynamically calculated based on the weight and delivery destination. These costs are individually determined during the checkout process. Our objective is to dispatch all orders within 4 business days. Please note that delivery times vary depending on your geographical location.